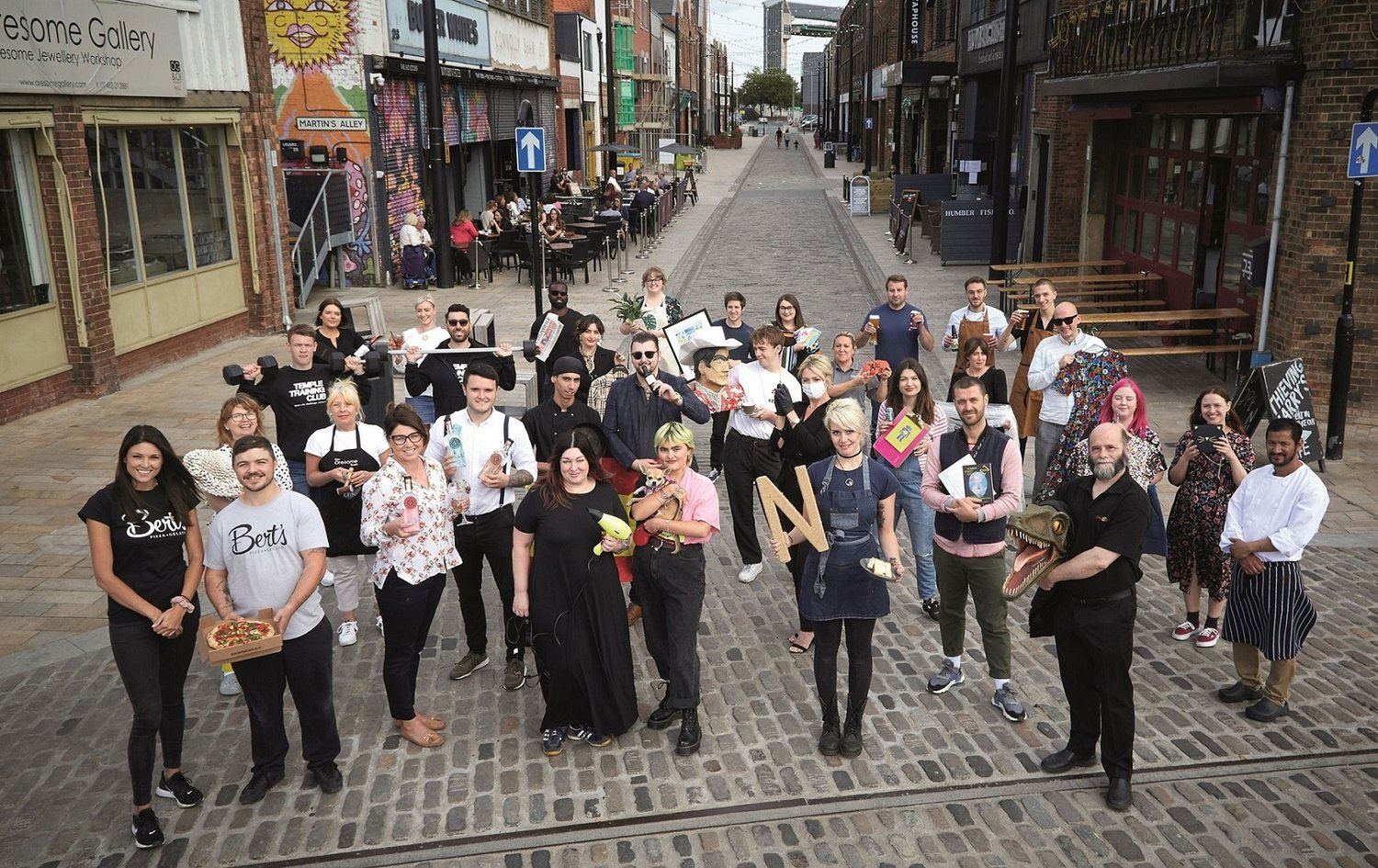 Hull's flourishing Fruit Market is generating a host of new businesses, hundreds of jobs and a unique, rapidly-growing residential community.
Little more than three years since the launch of Hull's most exciting urban regeneration project, the stunning transformation of the waterfront area is delivering on the vision for the Fruit Market as a vibrant area where people live, work and play.
What had become a largely derelict area, following the relocation of Hull's wholesale fruit and veg trade, is now a growing urban village and home to a host of thriving independent businesses.
More than 20 new businesses have opened in and around Humber Street, creating over 250 new jobs, with hundreds more in the wider Fruit Market area, which is now established as Hull's hub for creative and tech talent.
The transformation has also enabled businesses that opened in the Fruit Market as temporary ventures before the regeneration drive to have a sustainable future as part of the bustling waterfront district.
The Fruit Market community now features independent businesses as diverse as an urban gym, a bridal boutique, a vintage clothing store, a convenience store full of local produce, Hull's first gin bar and distillery and a range of restaurants serving tastes from around the world.
With more reasons to visit Hull's hippest neighbourhood all the time, footfall in Humber Street is growing strongly and is currently up by 12% year on year.
The regeneration has also created a host of opportunities for Hull's artistic community, including through the creation of Juice Studios on the first floor of 61-63 Humber Street, which has undergone a £1.2m redevelopment to make it a thriving centre for the creative arts.
Juice Studios is a vibrant space for Hull's creative community, featuring a combination of dedicated and shared working spaces for creatives working in disciplines including printmaking, contemporary art, textiles and fashion design.
In addition, the Fruit Market has become a regular venue for pop-up artistic and cultural events, workshops, exhibitions and performances, many staged in the former Humber Fruit Brokers building at 66-68 Humber Street, which is provided free of charge to support community groups.
These cultural events have included a series of family-friendly productions, with the musical "The Lightless Pumpkin" – which will see a Halloween-themed parade make its way along Humber Street – scheduled for November during half term.
Ambiente Tapas was one of the first new businesses to open as the revival began, adding authentic Spanish cuisine to the Fruit Market's dining options.
General Manager Robert Wood said: "We saw the opportunity to open in Humber Street knowing the area had huge potential.
"We've watched the Fruit Market grow into a vibrant area, with a great atmosphere both in the evening and during the day. There's been lots of investment from other independent businesses who share the vision of making the Fruit Market the go-to place in Hull.
"The regeneration is really bearing fruit now and we're seeing a steady increase in footfall as more businesses open along the street. It's a very exciting time."
Among the most recent additions to Humber Street is homewares and house plants store Plant & Paint.
Owner Lara Roberts said: "I had very high hopes when I first moved to Humber Street and it's been even better than I expected – I'm far busier than I ever imagined.
"There's a great sense of community down here and the business owners are really friendly and supportive of each other – organising collaborations and joint events, to help us all do well."
Opening her first shop in the ever-evolving Fruit Market district has transformed the profile of Lara's business and enabled her to reach many new customers.
She added: "In the same way as it's great for my customers to come and shop here, it's also a really nice place for me to have a business. It was definitely the right move – I'm so glad I opened here!"
The rejuvenation of the waterfront district is being led by Wykeland Beal, the regeneration company formed by commercial developer Wykeland Group and housebuilder Beal Homes, as part of the Fruit Market LLP joint venture with Hull City Council.
In all, almost £8m has been invested by the Fruit Market LLP in the repair, restoration and conversion of the area's historic former fruit and veg warehouses as well as in new buildings to replace structures that could not be saved.
The investment to bring Humber Street's heritage back to life is a key element of the overall £80m regeneration of the Fruit Market, which also includes a high-quality residential development by Wykeland Beal of mews-style homes arranged around four private courtyards.
The development features a blend of property styles creating an attractive and highly desirable new neighbourhood amid the cobbled streets of the Fruit Market.
The new homes have proven hugely popular, with residents enjoying the contemporary lifestyle and vibrant atmosphere offered by Hull's first urban village, with independent shops, restaurants, bars and galleries all on their doorstep.
Tom Watson, Development Surveyor for Wykeland, speaking on behalf of Wykeland Beal, said: "It's encouraging to see how the Fruit Market community has developed, with our guidance and support.
"Our vision has always been to create a community of distinctive, independent businesses and that is very much what we now have. It means the businesses are owner-managed, are passionate about the area and all work together to make a significant contribution to the community.
"The combination of business, retail, leisure, office and residential uses is creating a well-rounded and sustainable community unlike anywhere else within the city or region.
"The Fruit Market is continuing to evolve, with new opportunities now available, especially for independent retail businesses. We've had lots of interest from local ventures that want to be part of the Fruit Market and share in its success."
Businesses interested in joining the Fruit Market community permanently, or on a pop-up basis, can call Tom Watson on 01482 320968 or e-mail him at [email protected]
Photos by R & R Studio.