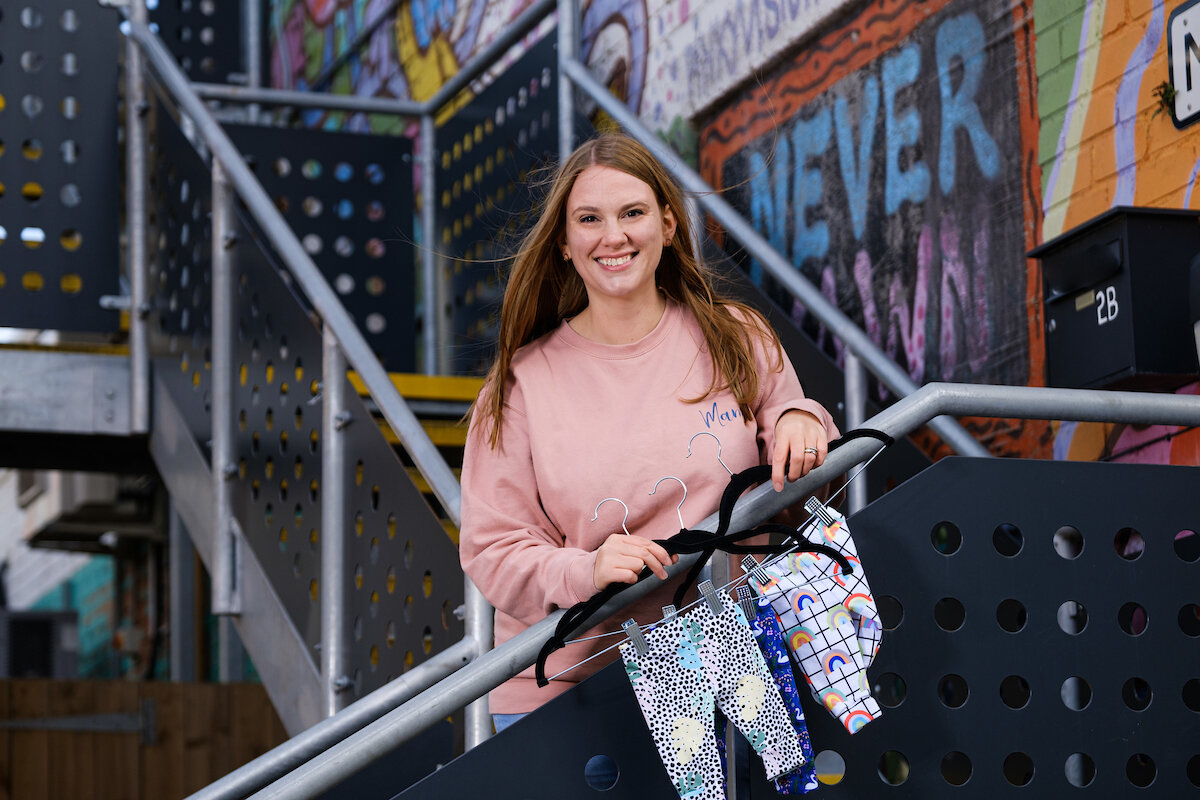 A baby and children's clothing pop-up shop is opening in Hull's popular Fruit Market neighbourhood just in time for Christmas.
Maple + Pea will open its doors in Humber Street from Saturday, November 23, to Monday, December 2, with a range of cute Christmas and fun all-year-round fashion for little ones up to eight years.
The pop-up shop will stock clothes with creative and colourful prints designed by Maple + Pea owner Jo Philpot, including some matching adult items perfect for the festive season. Twinning is winning!
Frustrated by a lack of colourful and fun clothing for her two boys, Archie and Rory, and wanting to create clothes with a difference, Jo began making her own pieces – teaching herself to make clothes with help from YouTube tutorials.
Prompted by praise from passers-by as she was out and about, Jo was inspired to launch a business designing her own range of baby and childrenswear, as well as a small selection of adult jumpers and t-shirts.
Named after the Maple Ward at Hull Women and Children's Hospital, Maple + Pea has amassed a following of thousands on Instagram with online orders coming from across the UK and as far as America, Canada and even the Falkland Islands.
With a growing business on online marketplace Etsy, the Humber Street pop-up shop will be Jo's first foray into bricks and mortar retail. The pop-up will be in a new unit next to Ghost Orchid Bride.
Jo said: "I'm so excited to have use of the pop-up unit on Humber Street. Currently all the items are made to order for my online store so I've been very busy making enough stock to fill the shelves!
"With it being so close to Christmas a lot of the designs are very festive with matching tops for mums and dads too! We will also have some non-seasonal items in stock as well."
Jo designs and makes by hand her range of leggings, shorts, hats and swaddle blankets, while her pattern designs are printed on to jumpers and t-shirts.
Inspiration for Jo's colourful designs come from her own imagination, with help from sons Archie and Rory.
Jo, who lives in Cottingham, added: "Archie loves rainbows and leopard print, so those patterns feature in our leggings and shorts range. We also have seasonal patterns such as pumpkins and autumn leaves.
"The fabric we use is beautifully soft and washes really well so it's very practical for busy families.
"Our new range of swaddle blankets have been incredibly popular and make great Christmas gifts. They're made from the softest muslin cloth which is so gentle for babies and toddlers.
"We're so looking forward to being on Humber Street – it's really exciting and a wonderful opportunity."
Maple + Pea is the latest emerging, independent retail business to capitalise on the opportunity for a pop-up presence in the ever-evolving Fruit Market waterfront community, supported by Fruit Market development joint venture Wykeland Beal.
Tom Watson, Development Surveyor for Wykeland, speaking on behalf of Wykeland Beal, said: "Maple + Pea is a great example of an innovative retail business that is now ready to establish a pop-up presence in an area where similar creative ventures are thriving.
"We're keen to talk to others who are keen to join the Fruit Market community, either permanently or on a pop-up basis."
For more information on Maple + Pea follow @mapleandpea on Instagram and Facebook and go to www.etsy.com/uk/shop/MapleandPea
Interested in Fruit Market business opportunities? Call Tom Watson on 01482 320968 or e-mail him at [email protected]
Photos by Neil Holmes Photography