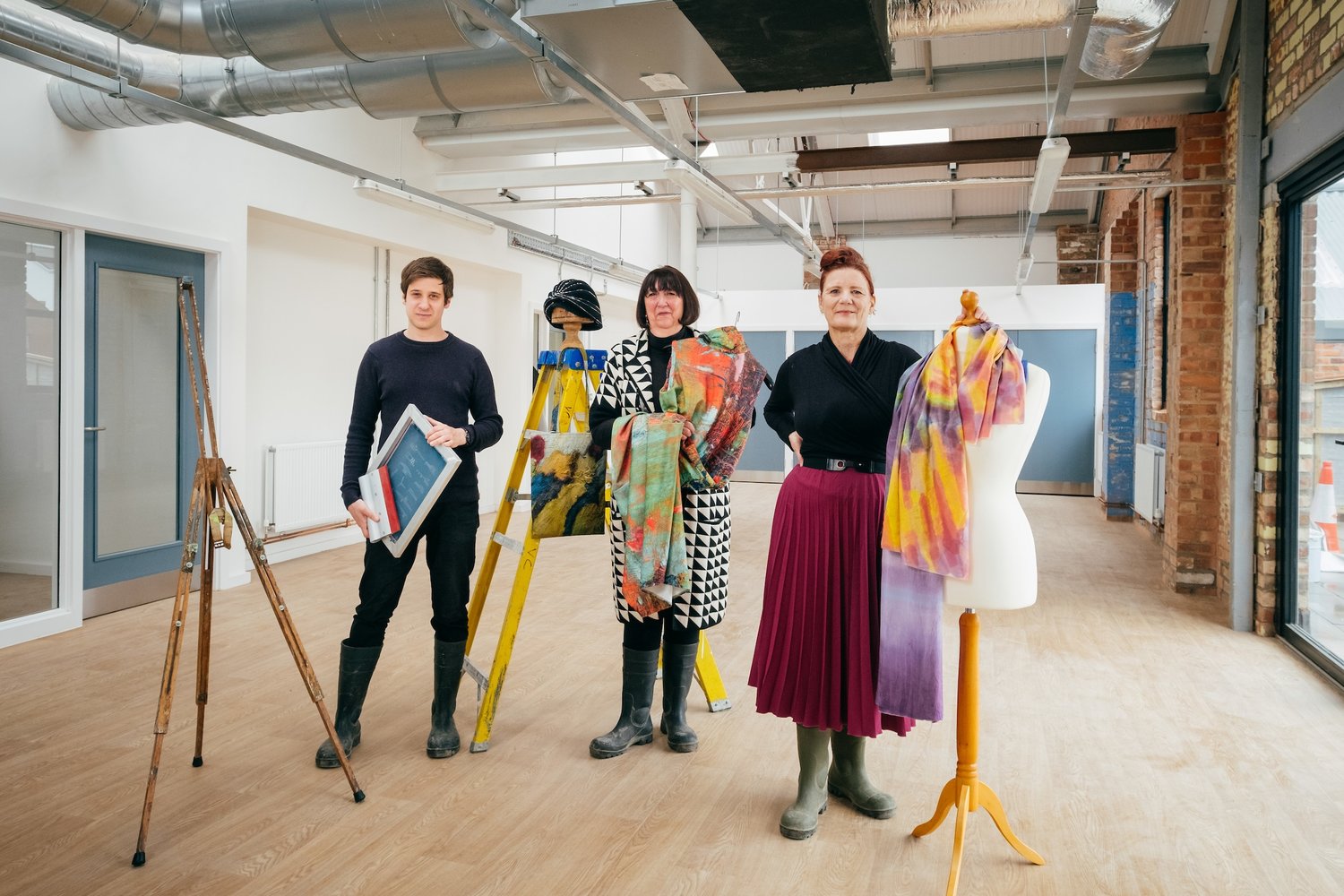 A vibrant artistic space for Hull's creative community is about to launch in the Fruit Market.
With a combination of dedicated and shared working spaces, Juice Studios will become home to emerging and established creatives looking to develop their careers in a range of art disciplines, including printmaking, contemporary art, textiles, and fashion design.
Juice Studios will occupy the first floor of 61-63 Humber Street, which is undergoing a £1.2m redevelopment, including the creation of a new purpose-designed, multi-arts performance venue on the ground floor.
Intended to be a self-sustaining hub for artists, designers and creative enterprises, Juice Studios is expected to open in July.
The versatile space consists of eight individual studios; shared working areas for around 20 members; a fashion and textiles studio; print room; and a multi-purpose project space.
Joseph Cox, joint owner of neighbouring business Form Shop & Studio, has played a leading role in developing the new artistic hub.
He said: "Juice Studios will be a place where creatives can share ideas, collaborate, learn new techniques and benefit from the great facilities on offer.
"It's a place which will help connect Hull's art scene, enable it to grow and bring artists and makers to this creative neighbourhood.
"We're hoping the space will appeal to people who are already working or aiming to work in the arts – whether that's printmaking, illustration, textiles or any other media."
Among the first to join the Juice Studios community is Hull-based co-operative Feral Art School, a not-for-profit community of professional artists and educators.
Annemarie Tickle, a tutor with Feral Art School, said: "The new studios will offer opportunities for early-career and more experienced artists to work alongside each other in a supported, exciting and vibrant environment."
Lynn Benson, fashion co-ordinator with Feral Art School, said: "Juice will give people the opportunity to fulfil their creative ambitions and expand their skills in a range of different art disciplines."
Facilities within Juice Studios will include professional printing equipment; meeting rooms; a communal area including an outdoor terrace; project space; and "messy" work areas with deep basins.
Members will also be able to access a print room, with technician support, focused on screen printing and stocked with a range of materials available on a pay-as-you-go basis. Non-members will also be able to use the facilities through a print club subscription.
The open plan project space will be used to host classes, talks, performances, workshops and exhibitions for Juice Studios members and the general public.
Juice Studios will add to the thriving arts scene already flourishing in the Fruit Market, joining Humber Street Gallery, Studio Eleven, Form Shop and Studio, and Oresome Gallery and Jewellery Workshop.
It will be run by an independent advisory board and two new jobs will be created – for a studio manager and a print room technician. Studio spaces will be allocated following an application process overseen by the advisory board.
Joseph, who is a member of the advisory board, added: "This is a fantastic opportunity for artists to be part of a versatile, collaborative environment where they can work with and engage with other creatives to develop their own skills.
"Supporting the growth of a vibrant arts community, by creating a focus for it in Humber Street, will boost what is already a thriving area. That will, in turn, support trade for the shops, restaurants and other independent businesses in the Fruit Market."
Juice Studios will be a key element of a new centre for the creative and artistic community in a comprehensively repaired and redeveloped three-storey building.
The works, which are nearing completion, involve the repair, refurbishment and reconfiguration of all three floors of the building. It will mean the first and second floors will be accessible and brought back into use for the first time in more than a decade.
The project is being partly funded by a £600,000 grant from the Coastal Communities Fund to support the continuing regeneration of the Fruit Market waterside district.
The project is being delivered by Wykeland Beal, the regeneration company formed by commercial developer Wykeland Group and housebuilder Beal Homes, which is leading the reinvention of the waterside community as part of The Fruit Market LLP joint venture with Hull City Council.
Tom Watson, Development Surveyor for Wykeland, speaking on behalf of Wykeland Beal, said: "The launch of Juice Studios is another exciting landmark in the development of the Fruit Market urban village.
"The investment made in repairing, restoring and remodelling 61-63 Humber Street has created the perfect environment for this new creative hub to prosper and add to the creativity that makes the Fruit Market so unique."
Artists and creatives wanting to join the Juice Studios community can register their interest online at www.juicehull.com.
For updates follow @juicehull on Instagram, Facebook and Twitter.
Pictures by Neil Holmes Photography