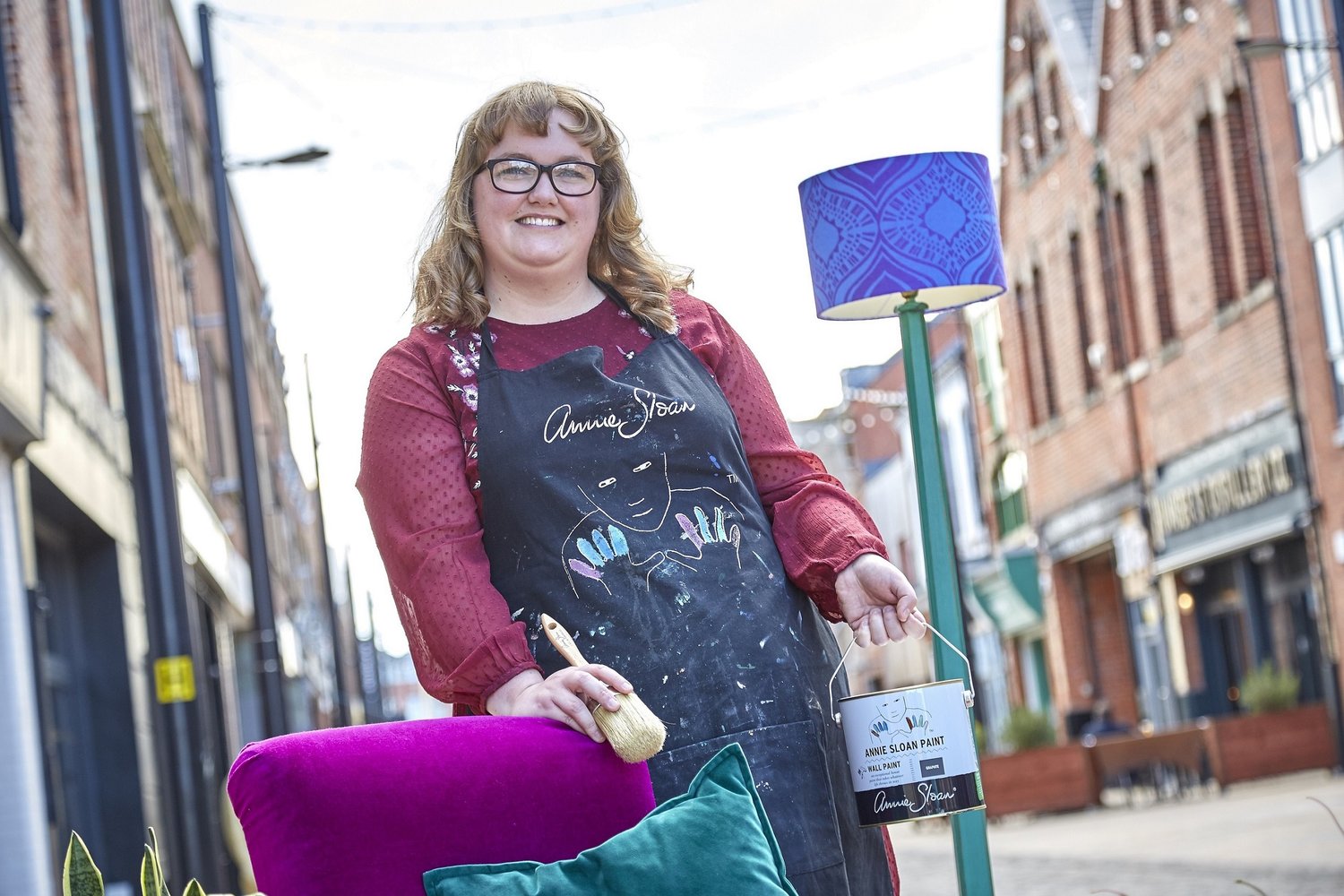 A vintage upcycling business is bringing its eclectic mix of hand-painted statement furniture and home accessories to Hull's growing Fruit Market creative community.
Roberts' Vintage Home offers a personal service beautifully hand-painting vintage furniture.
The business is also Hull's only stockist of trademarked Chalk Paint and wax products by Annie Sloan, one of the world's most respected experts in paint and colour.
Owner Lara Roberts has been upcycling decorative furniture and selling it online for the past five years from a unit at the Hull Microfirms centre in the Wincolmlee district.
Now she is moving to a new retail unit in Humber Street in the Fruit Market urban village, opening in early summer. It means for the first time she will have a shopfront in a visible location with strong footfall generated by neighbouring businesses and venues.
Lara said: "I'm so excited about moving to Humber Street. I love the area and it has exactly the right vibe and fit for my business.
"I was inspired to move when I went to the launch night of Tessies boutique in Humber Street a couple of months ago. The amazing atmosphere of the area and the light, airy space just sealed the deal for me. Within a few days I was looking at a brand new unit, right next door to Tessies!
"Becoming an official Annie Sloan stockist a year ago has given the business a big boost and made me realise it was the right time to open a shop. It will be a new experience to have passing trade and footfall – I'm quite difficult to find at the moment!"
Lara is passionate about using paint to restore decorative pieces and committed to passing on her skills to others. She holds regular painting classes and is qualified to teach official Annie Sloan workshops in paint techniques and finishes.
Lara said: "At the moment my workshops are very small and intimate. In the new shop I'll be able to accommodate between 15 and 20 people and increase the number of classes.
"I'm also going to invite other local makers to come and run workshops, which will complement what other Humber Street businesses are doing. I can't wait to be part of such a creative and artistic community."
The launch of the new shop comes as Lara prepares to rebrand from Roberts' Vintage Home to Plant & Paint, reflecting her plans to begin selling house plants alongside her furniture and home décor accessories.
The business will open in No. 24 Humber Street, one of four new-build units. The interior of the 670 sq ft unit will feature graphite walls and flooring with copper and light wood accents.
It's the fifth new, independent venture to open in Humber Street this year, testament to the ever-growing popularity of the stylish waterfront district which is being transformed by Wykeland Beal, the regeneration company formed by commercial developer Wykeland Group and housebuilder Beal Homes, as part of The Fruit Market LLP joint venture with Hull City Council.
Tom Watson, Development Surveyor for Wykeland, speaking on behalf of Wykeland Beal, said: "We're delighted to welcome Lara as the latest local business owner to choose the Fruit Market as the perfect place to invest and expand.
"As well as bringing another new retail element to Humber Street, Lara will be passing on her skills by hosting classes and workshops and contributing to the spirit of creativity and collaboration that makes the Fruit Market so unique."
Photos by R&R Studio