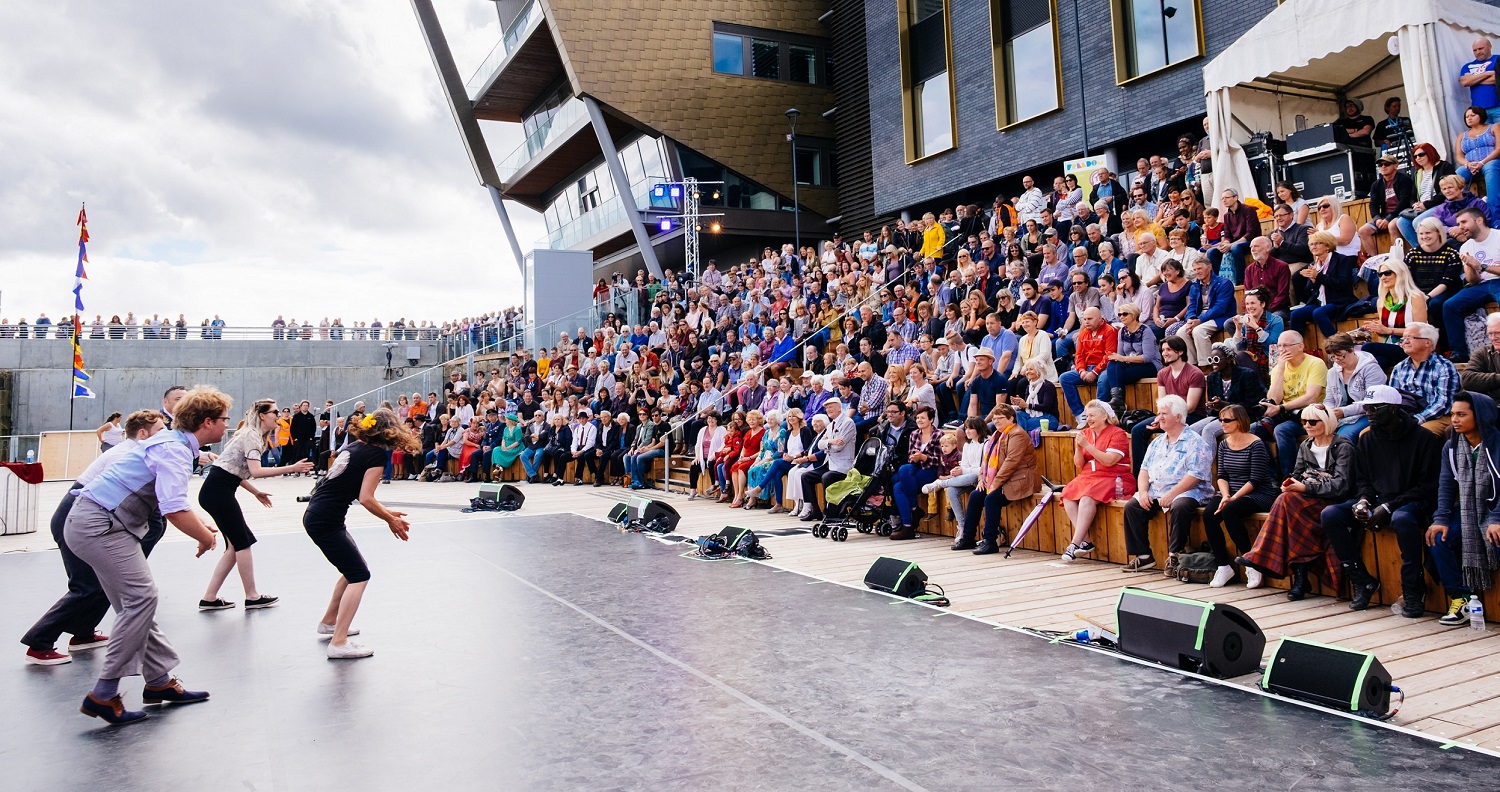 Hull's stunning open-air amphitheatre, Stage @TheDock, will be the setting for an exciting line-up of family-friendly events set to wow audiences throughout the summer.
Stage @TheDock has become a leading destination for touring theatre and performance companies, cementing its position as a premier waterfront venue through its compelling line-up of shows and events.
Located in the vibrant Fruit Market urban village, Stage @TheDock is conveniently close to restaurants, bars, galleries, shops and other attractions.
It makes it an ideal location for pre and post-performance refreshments and enables showgoers to make the most of their visit to the lively waterside neighbourhood.
This summer's line-up ranges from family-friendly theatre, exhilarating fire shows, classic fairytale retellings, and choral performances.
Among the enchanting performances, Story Craft Theatre's "Once Upon a Fairytale" promises to captivate audiences with its high-energy exploration of beloved fairytale characters. Aimed at 2-8-year-olds, this interactive show calls upon audience members to help find the missing Goldilocks! Don't miss Once Upon a Fairytale on Sunday, July 9th, with two showings at 12pm and 3pm.
Experience Be Amazing Arts' magical adaptation of Peter Pan. Set in Yorkshire during World War Two, this childhood classic features favourite characters including Captain Hook, Mr Smee, Tinker Bell and the lost boys! Don't miss the shows on Saturday, July 15th and Sunday, July 16th, from 2.30pm and 7pm.
Embark on a "delightfully daft" family adventure with legendary "Hercules", filled with heroes, monsters and myths. Will he achieve his heroic destiny and find his happy ending before time runs out? Join us for Hercules on Friday, August 4th, 2pm.
Music lovers can look forward to an incredible al fresco fundraising event on Saturday, August 5th, featuring two wonderful choirs, All for One Choir and G-Choir, in aid of the charity For the Love of Gospel. This organisation aims to inspire people of all ages to experience the joy of singing gospel and encourage choir participation to improve health and wellbeing.
Experience the extraordinary as national touring theatre company SISATA presents "The Tempest" – a tale of magic, betrayal and revenge. Witness the destructive consequences of human greed for power and control, endangering lives and the future of the land itself. Save the date: Sunday, August 13th, starting at 1.30pm and 6.30pm.
Award-winning writer/choreographer duo Josh Overton and Ed Grimoldby return with their new show "Dante" – a fiery circus spectacular exploring love, friendship and monstrous demons wielding flaming swords. Suitable for ages 7+, shows run from August 17th to August 20th, 8pm-10pm.
Stage @TheDock will once again play its part in the popular Humber Street Sesh on Saturday, August 12th, hosting the popular Hip Hop stage with workshops, breakdancing scratch DJs and graffiti artists. This event welcomes all visitors, including those without a Sesh wristband, and admission is completely free.
The venue will also play a key role in the region's biggest international outdoor arts festival, Freedom Festival, in September, welcoming international artists and world-class performances to the stage.
Natalia Blogg, Wykeland Culture and Events Manager, said: "It's wonderful that Stage @TheDock is now a prominent cultural destination in Hull. This year local and national touring companies are back with exciting new shows and we're also welcoming companies who will be making their debut in our city for the first time.
"We've created an eclectic line-up which we hope will be enjoyed by everyone who visits. Our accessible programme offers free or pay-what-you-can performances, alongside ticketed shows that support touring companies.
"We can't wait to welcome audiences to enjoy these performances while experiencing the unique surroundings and atmosphere at Stage @TheDock."
For the full schedule of events and to book tickets, visit: www.stageatthedock.co.uk/whats-on/
The full Stage @TheDock summer line-up
July
Sunday 9th July, 12pm and 3pm – Once Upon a Fairytale
Saturday 15th July, 2pm and 7pm – Peter Pan
Sunday 16th July, 2pm and 7pm – Peter Pan
Friday 28th July and Saturday 29th July – Pop Up Playground with Herd Theatre Company
August
Friday 4th August, 2pm – Hercules
Saturday 5th August, 7.30pm – All for One Choir / G-Choir (Gospel)
Saturday 12th August – Humber Street Sesh
Sunday 13th August, 1.30pm and 6.30pm – The Tempest
Thursday 17th – Sunday 20th August, 8pm-10pm – Dante's Inferno
September
Saturday 2nd September – Sunday 3rd September – Freedom Festival