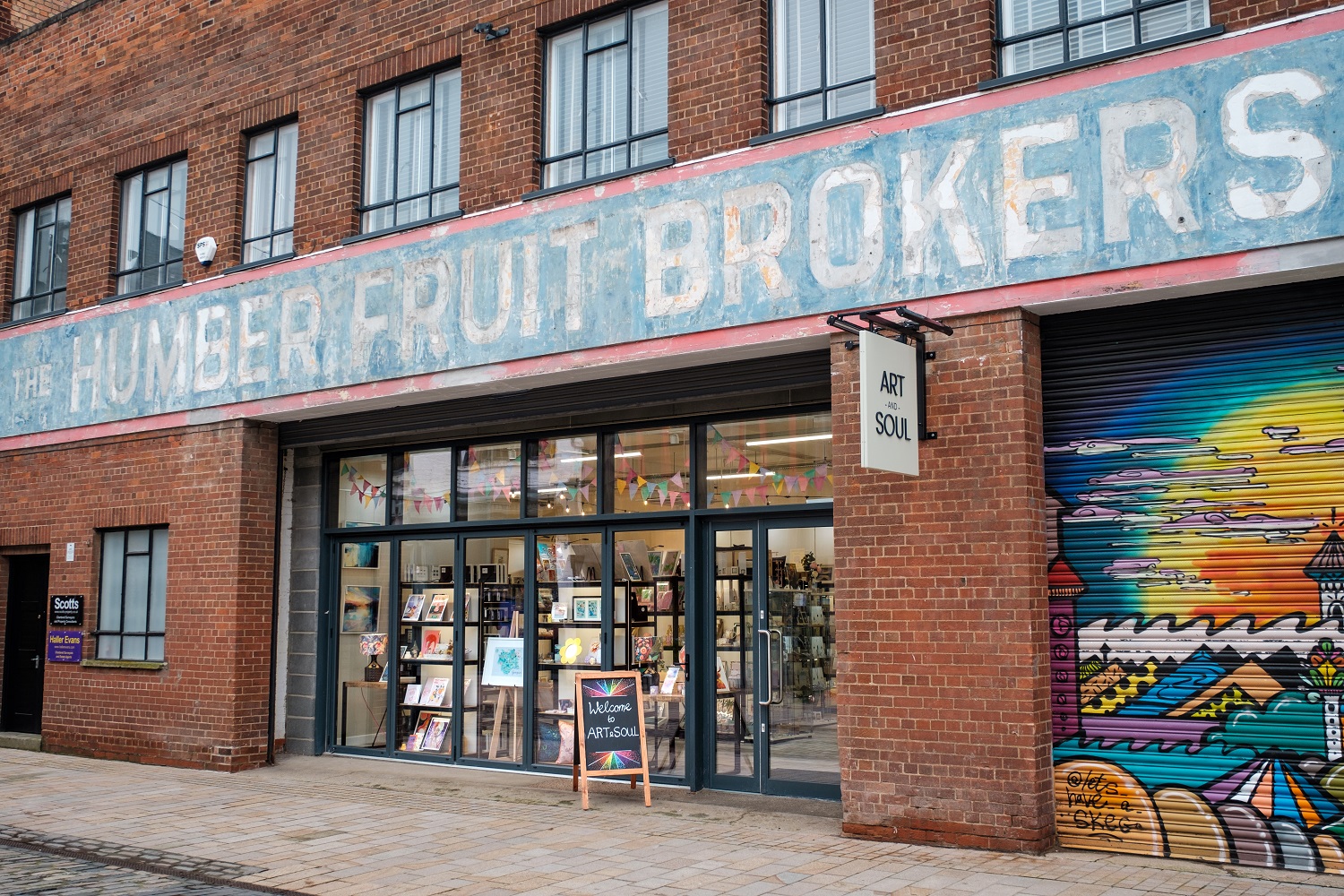 An exciting new space for local artists and makers to showcase their talents has opened in Hull's Fruit Market, adding to the area's creative credentials.
Art and Soul has opened in the former Humber Fruit Brokers warehouse in Humber Street, providing creative talent from across the city and beyond with a place to display and sell their art, jewellery, homewares, photography, stationery and more.
The creative hub was launched at Beverley's Flemingate retail and leisure destination in July 2020 and founder Dr Jane Berriman has now opened a second outlet, boasting an amazing array of unique hand-crafted items in its new Humber Street home.
The Fruit Market's latest arrival has already proved a big hit on Humber Street, with customers having followed Art and Soul's progress in the run up to opening and visited to browse the collection of work on sale.
Art and Soul's expansion continues a successful relationship with leading commercial developer Wykeland Group. Wykeland is the owner and developer of Flemingate and has driven the regeneration of the Fruit Market with joint venture partner Beal Homes, working in partnership with Hull City Council.
The Art and Soul business model sees artists and makers offered a range of rental spaces to sell their work, with support also available from Jane to help artists meet their business objectives.
Jane said: "It's almost three years since we opened Art and Soul at Flemingate. In that time, we've helped over 150 artists and makers showcase their work. We're delighted to have now opened our new Humber Street store.
"The Fruit Market is a vibrant area known for its galleries, independent businesses and creative spirit.
"Art and Soul will complement that offering, helping more artists and creators to find an outlet for their work and shoppers to find the perfect gift or item for their home.
"We've enjoyed strong trade since opening on Humber Street, and feedback from customers on the new shop has been really positive.
"If you're a local artist looking for a prime space to display and sell your creations, please do get in touch and find out how Art and Soul can help you."
Art and Soul's new store accommodates up to 100 makers and artists and is almost at capacity, with scores of creatives already up and running within the exciting new space.
They include Edge of the Wolds, which produces small batches of hand poured candles and diffusers with an emphasis on local and regional landmarks, and MooKi Jewellery, which produces sustainable handcrafted items made from recycled precious metals at its Lincolnshire workshop.
Art and Soul is located at 66-68 Humber Street and is open seven days a week. Opening hours are 9.30am-5pm, Monday to Saturday, and 10.30am-4.30pm on Sundays.
It's the latest business to join the Fruit Market community, after dog grooming parlour and shop Sandy Paws & Salty Noses opened its doors in February.
Once home to Hull's wholesale fruit and vegetable trade, before falling into decline, the Fruit Market has been transformed in recent years into a vibrant retail, leisure, commercial and residential community.
The latest arrival has been supported by a £40,000 grant to Art and Soul from the Government's Levelling Up Fund towards refurbishment costs.
Wykeland Development Surveyor Tom Watson welcomed Art and Soul as the latest independent business to invest in the thriving waterfront neighbourhood.
He said: "Having worked closely with Jane and the community of artists at Flemingate, we're thrilled that Art and Soul has chosen the Fruit Market for its new store.
"The business has flourished at Flemingate and we have seen the positive impact it has in Beverley.
"The expansion to Humber Street means another unit is now occupied by a high-quality independent venture, underlining the Fruit Market's status as Hull's creative centre, and drawing more shoppers into this vibrant area."
Artists and makers interested in having their work on display and sale at Art and Soul in Humber Street can contact Jane via

[email protected]

.
You can discover more about Art and Soul by visiting artandsoulhub.co.uk and follow Art and Soul on social media @artandsoulhub.
Pictures: Neil Holmes Photography