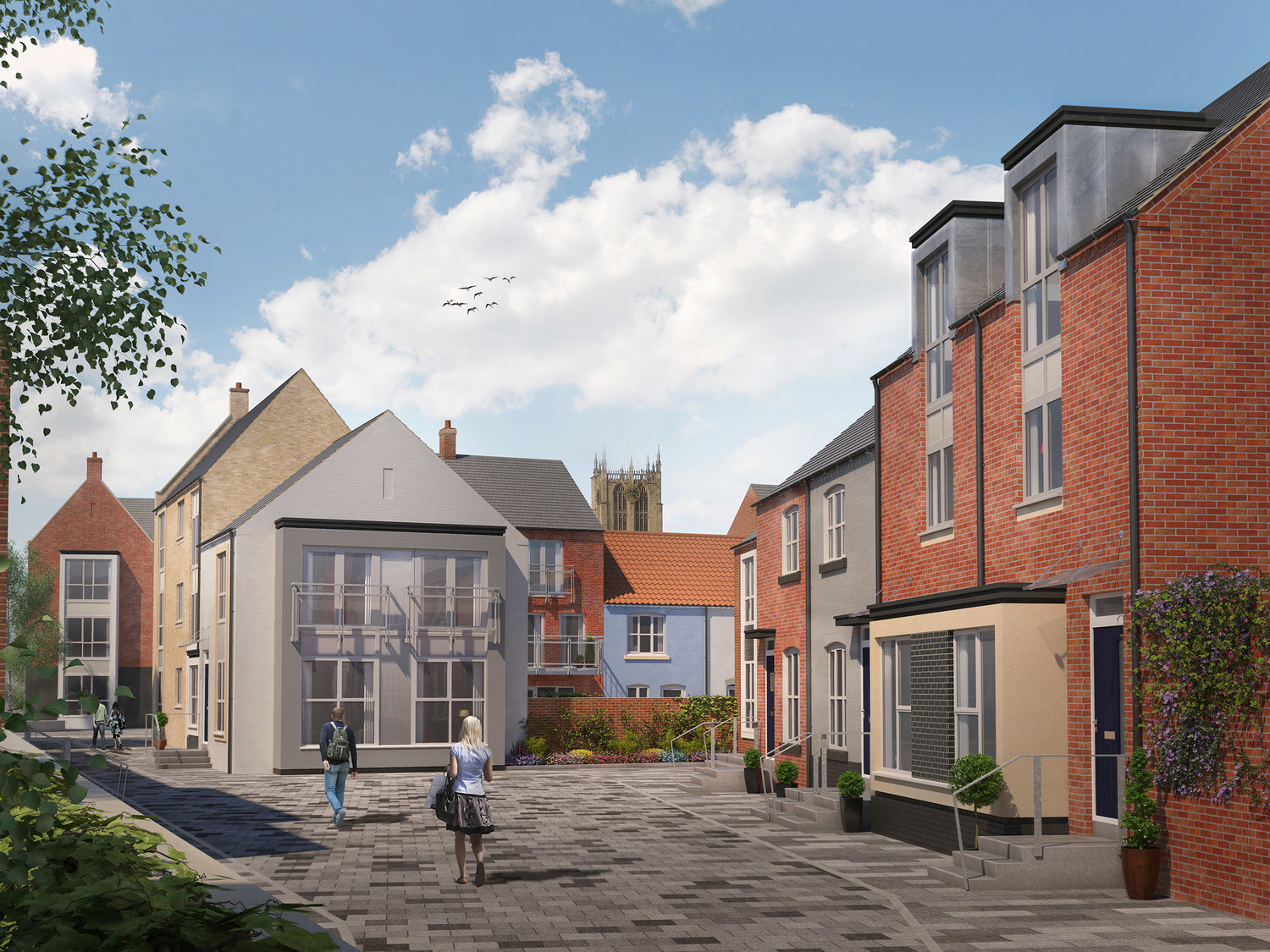 The eagerly-awaited latest quarter within Hull's exciting Fruit Market development has been launched.
Developer Wykeland Beal has launched Scott's Quarter in the heart of the in-demand city living scheme.
The 28 properties that make up Scott's Quarter include two and three bedroom townhouses, as well as duplex and single storey apartments.
Scott's Quarter is the largest of the four courtyards that make up the Fruit Market development and includes Scott's Square, which recreates an historic square lost to demolition many years ago. Scott's Square will create an attractive pedestrian link between the new homes and the heart of the Fruit Market community in Humber Street.
The Fruit Market development has generated huge interest, with more than half of the 105 properties already sold, including all but two apartments overlooking Humber Street.
With the first buyers now moving in, a new community is being formed where residents can enjoy the contemporary lifestyle and vibrant atmosphere offered by Hull's first urban village, with independent shops, restaurants and galleries on their doorstep.
With the launch of the latest quarter, properties available range from apartments overlooking Humber Street, priced at £154,995, to a three bedroom townhouse with car port, at £274,995.
The homes are being built by Wykeland Beal, a joint venture company formed by commercial developer Wykeland Group and housebuilder Beal Homes. Wykeland Beal is working in partnership with Hull City Council to deliver the £80m transformation of the Fruit Market in Hull's biggest urban regeneration scheme.
Sue Waudby, Sales and Marketing Director of Beal Homes, speaking on behalf of Wykeland Beal, said: "The Fruit Market residential development has been an amazing success, with homes in the first two quarters selling very fast indeed. We're sure Scott's Quarter will add to that success.
"Lots of potential buyers have had their eye on Scott's Quarter since we launched the development last year, so we're sure this latest release of properties will be in high demand.
"The homes available in Scott's Quarter showcase everything that the Fruit Market has to offer, as they include the full mix of property types and styles.
"With the development really taking shape and new shops and venues opening all the time, potential buyers can now fully appreciate the exciting and highly-appealing lifestyle opportunity that the Fruit Market offers."
Properties within the four quarters are mostly townhouses, arranged over two and three storeys, with a blend of traditional and contemporary designs creating an attractive new neighbourhood within the ever-evolving urban village.
The complete scheme features 93 mews-style homes around the four private courtyards, all with secure parking. There are also 12 stylish one and two bedroom apartments overlooking Humber Street.
Every property in the Fruit Market development has been designed for modern life, with spacious, contemporary living spaces together with the opportunity for buyers to choose their own high-quality fixtures, fittings and finishes from an extensive range of options.
Full details of all the properties are available at a new Sales Centre on the corner of Queen Street and Blanket Row. Potential buyers can also arrange to visit a newly-established view home in Horner's Quarter, close to the Sales Centre.
The Sales Centre is open 11am-4pm from Thursday to Monday. Potential buyers can also call Fruit Market Sales Manager Sam Cody on 01482 323182 or 0800 612 1216; or e-mail [email protected]
Further information is available at www.fruitmarkethull.co.uk/live with full details of the newly-released properties at www.beal-homes.co.uk/developments/fruit-market